Welcome!
The Downtown DIY offers affordable access to professionally equipped studio and craft spaces for creatives at all levels. Our inventory of specialized equipment and tools accommodate a variety of visual art media, including: clay, creative writing, digital media, drawing + painting, textiles, paper crafts, needle arts, wood working, and more. We also offer walk-in projects, workshops, and group events!
Make & Take
Choose form a rotating selection of projects that can be completed in an hour or less. Next, let our huge selection of Paints, Ribbons, Beads, Embellishments, Papers, Medias, Findings, Stamps, Stencils, Transfers (and more) inspire your inner artist!
The Candle Bar
Create your own luxury candle using professional grade wax and fragrance oils. Choose form this month's designer fragrance collection, or create a signature scent. Customize your candle with a variety of mediums including moulds, decoupage, and stencils. We also offer customized labels.
Kid's Craft Corner
We are family owned, and family friendly! That means your littles are VIPs! Stuff to do, read and color are readily available, and we have a selection of easy and fun crafts to "make and take", without breaking the bank!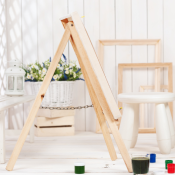 Craft Space/Studio Rentals
Craft stations are available to rent in 3-Hour Time Slots, and walk-ins are welcome based on availability. Enjoy access to all the tools and supplies available in our workshop. We also accept reservations and offer discounts for groups.
Tools, Techniques, & Tutorials
Check our
Calendar
for our fun, informative and affordable tutorials. We cover the gamut of the creative world! Learn about tools, techniques and even new products hitting the market. Reservations are required.
Thrift Flips
Using a variety of mediums, techniques, tools and embellishments, participants focus on re-imagining, re-creating, and re-loving thrifted finds (or old love that just needs a new look!). No previous experience or skills needed. This is an interactive, all-inclusive, creative experience! Check our
Calendar
for these workshops. Reservations are required.
Furniture Makeovers
Whether you want to update pieces for your personal space, or try your hand at flipping furniture for extra income; you will find everything from the basics to advances techniques in our furniture flipping workshops. Sign up for one workshop, or for an entire series! Information can be found on our
Calendar
. Reservations are required.